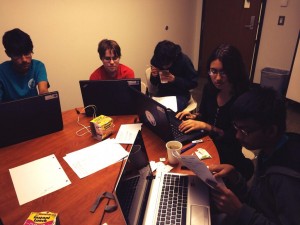 Last weekend officially marked the beginning of the 6th competition season of CyberPatriot. CyberPatriot is a middle and high school cyber defense competition designed to give hands-on exposure to the foundations of cybersecurity.
Over a 72-hour period, middle school and high school aged students from across the globe raced to triage and remediate security vulnerabilities inside Windows images. From Japan to Korea all the way to Hawaii, CyberPatriot is slowly becoming a crucial pillar in their education.
It is amazing to see how this humble high school cyber defense program has grown in a short period of six years. In many ways, I am quite jealous of the opportunities these students have. Having the technical theory and crucial hands-on time with Windows images, Linux images, Cisco equipment is a dream come true for any aspiring cybersecurity professional, and even more so for an aspiring student.
It is amazing to see not only knowledge these students are acquiring, but also nurturing the passion and crucial critical thinking skills any employer would value. These students have a community and camaraderie I wish I had when I was in grade school.
More importantly, I am continuously amazed to see how mere middle school and high school students across the globe are rising to the challenge of defending information systems. The scores reflect their knowledge in account policies, prohibited files, windows updates, password policies, malware, antivirus, access controls, services, and obscure windows security settings most system administrators do not even know about.
As a CyberPatriot mentor for one high school, I am proud to see my students rise to the challenge and I am looking forward to see them soar.
Round 1 Scores:
CyberPatriot VI Round 1 Scores – Open Division
CyberPatriot VI Round 1 Scores – All Service Division
CyberPatriot VI Round 1 Scores – Middle School Division